Models 154A & 154


Discontinued-No Replacement



Peace of mind protection during equipment failures

Installation Instruction (pdf)
Product Brochure (pdf)
Both "154" Bypass products transfer up to 8 system phones to CO trunks when the power or phone system fails. All connections are isolated from the phone system while in Bypass mode. Multiple units can be 'ganged' together to support more than 8 trunks.
Model 154A requires a -24V power supply (plug-in supply included).
Model 154 requires a local -48V power source (Nortel external supply).
The 154A & 154 work with ground-start or loop-start trunks. Ground-start detection is automatic. No configuration is required. Both models also act as Automatic Loop-Start to Ground-Start Converters, allowing loop-start equipment to work on ground-start trunks without requiring a button. This function can be used with or without the transfer feature.
Transfer can be activated either by power failure, a manual bypass switch, or a switched ground (SWE) from the phone system or remote location. They can also control auxiliary equipment (and/ or other Bypass units) with two sets of dry relay contacts available.
When the power is returned, the Bypass unit will restore only those powerfail trunks that are idle. In-use trunks are restored only after they become idle. Calls are never lost a second time! (For digital sets or to defeat this feature, ask about model 154X.)
Don't be fooled by Uninterrupted Power Supplies (UPS). They only protect against power outages. The Dees Bypass units provide full protection against system equipment failures as well as power outages.
Models 154A and 154 are identical apart from the power supply voltage. Both are intended for use with "-48V" POTS lines, but support a wide range of line voltages. See Ordering Information chart for complete model numbers.
Application
When the power goes out, your communications link with the rest of the world is severed unless you have the Dees Powerfail Bypass unit installed in your facility. It's the obvious solution for every business and organization. When the power goes out, or you have a major alarm, you will continue to receive calls and business goes on as usual. You can even control auxiliary equipment using the Dees Bypass unit, such as an auto-dialer to inform another branch or customer that your power is down.
If your application doesn't need the Transfer function, no power supply is required.
Installation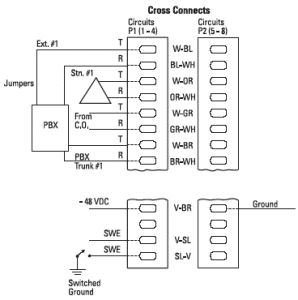 Benefits
Connects dedicated telephones directly to Central Office during power-fail or major alarm
Automatic ground start
Calls in progress are not interrupted when power is restored
Activated by powerfail, manual bypass switch or remote ground
LED power indicator
Can be remotely activated
2 sets of auxiliary contacts: one normally open; one normally closed
Ordering Information
| | |
| --- | --- |
| Model 154A-8/PSU | 8-Trunk Powerfail 24VDC with Power Supply (Model 368) |
| Model 154-8 | 8-Trunk Powerfail 48VDC (non-stock) |
| | |
Specifications
| | | | | |
| --- | --- | --- | --- | --- |
| | Min | Typical | Max | Unit |
| Electrical | | | | |
| Operating Supply Voltage | | | | |
| Model 154A-8 | 20 | | 28 | VDC |
| Model 154-8 | 40 | | 56 | VDC |
| Operating Supply Current | | | | |
| Model 154A-8 | | | 180 | mA (DC) |
| Model 154-8 | | | 100 | mA (DC) |
| Loop Current | 20 | | 120 | mA (DC) |
| Auxiliary Contacts | | | | |
| Current | | | 2 | A (DC) |
| Voltage | | | 30 | VDC |
| Power | | | 30 | VA |
| Environmental | | | | |
| Operating Temperature | 32 | | 158 | °F |
| (intended for indoor use only) | 0 | | 70 | °C |
| Humidity (non-condensing) | | | 95 % | RH |
Unit Dimensions (LxWxH)
9.25" x 5.40″ x 1.58″
(23.5 x 13.7 x 4 cm)
Shipping Specs
Weight

Dimensions

154A-8/PSU
2.2 lbs.
(1 kg)
10.75″ x 6.375″ x 4.375″
(27.3 x 16.2 x 11 cm)
154-8
1.8 lbs.
(0.82 kg)
10.75″ x 6.375″ x 3.375″
(27.3 x 16.2 x 8.6 cm)
| | | |
| --- | --- | --- |
| Certification | | Approval Number |
| DOC CS03 | | 350 1976 A |
| CSA C22-2 No. 225-M90 | | LR 65726 |
| FCC Part 68 | | FCNCAN-22540-OT-N |
| UL 1459-2 | | D05921080C and D0292442DBC |