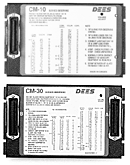 ---
Discontinued
Dees Service Observing units provide complete call monitoring and talk assist capabilities. They are compatible with almost any analog telephone system, e.g., POTS, CENTREX, PBX or Key System lines. Available in two versions, Model CM-10 monitors up to 10 lines and CM-30 monitors up to 30 lines (up to 90 lines using Expander).
To monitor lines, assign a supervisor's telephone set and numbers for those lines you wish to monitor. Then, using the Supervisor's set, dial the numbers for the line you want to monitor. You may move from one set to another by briefly hanging up and then dialing the new number, or by dialing the pound button (#) and then the new number. When the line is being monitored, nothing can be heard by the parties on the lines. However, if preferred, an optional Alert Tone can be turned on to indicate to the conversing parties that the line is being monitored.
The CM-10 and CM-30 have a built in Talk Assist feature to allow the supervisor to enter into a call whenever necessary. It is easy to activate with a strapping option. The observer simply presses the asterisk button (*) on his or her phone set. No add-on products are required for this feature.
As your business grows, the CM-30 can grow with you. The CMX-300 Service Observing Expander will expand your system to monitor up to 90 lines in increments of 30 lines per unit. (Note: CM-10 does not support Expander)
Application
If you are in the kind of business where your survival and success is dependent on your sales and service representatives making effective use of the telephone to reach the marketplace, the Dees Service Observing units will be invaluable to you. They're ideally suited to telemarketing firms, sales order desks, technical support desks, customer service departments, service departments, etc. With the CM-10 or CM-30 installed, you can monitor any or all calls made by your sales and support staff from your telephone set whenever you want. These units are also ideal for training purposes. During a training session, if a trainee gets into difficulty during a call, you can activate the Talk Assist feature and join in on the call to help. If you prefer to let the callers know that they are being monitored, activate the Alert Tone option. Add the Model 340 DeesLink to allow secure monitoring from a remote location.
Installation
Installing the Dees Service Observing units is straight-forward and consists mainly of tying down the cross connects of the CM-30 or CM-10 to those lines you wish to observe. Each unit requires 24 VDC, and comes with a plug-in power supply.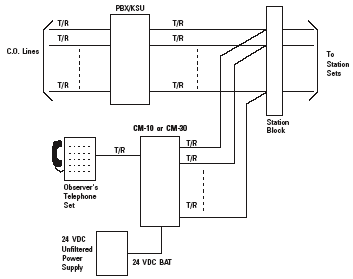 Benefits
Available in 10 and 30 line capacity units
30 line version (CM-30) is expandable up to 90 lines using the CMX-300
Compatible with analog POTS, Centrex, PBX or Key System lines
Built-in Talk Assist option included
Silent observing with optional Tone Alert provided
Remote monitoring using DeesLink
Connectorized interface
Can be wall mounted
Operates from a 24 VDC unregulated power supply
[TOP]
Ordering Information
CM-10/PSU
Service Observing Unit – 10 Lines
with Power Supply (Model 368CM)
CM-30/PSU
Service Observing Unit – 30 Lines
with Power Supply (Model 368CM)
CMX-300
Service Observing Expander – 30 lines
CM-10R
Service Observing Unit – 10 station rack mount
Specifications
Min
Typ.
Max
Unit
Electrical
Operating Supply Voltage
24
30
VDC
Operating Supply Current
150
mA
Tone Dialing Parameters
Loop Length
580
ohms
Interdigital Time
40
msec
Input Signal Level
-7.5
4
dB
Bandwidth
2
%
Recognition Time
40
msec
Alert Tone
Frequency
1
KHz
Duration
0.4
sec
Relay Contact Ratings
Lamp at 10 VAC
2
amps
ECI and EC2 at 28 VDC
2
amps
TAI and TA2 at 28 VDC
2
amps
Breakdown Volts
Observed lines to ground
1000
VDC
Environmental
Operating Temperature
32
122
°F
0
50
°C
Humidity (non-condensing)
95 %
RH
Dimensions (LxWxH)
Unit: 9.3" x 5.4" x 1.6" (23.5 x 13.7 x 4 cm)
Packaged: 10.8″ x 6.4″ x 4.4″ (27.3 x 16.2 x 11 cm)
Shipping Weight
| | |
| --- | --- |
| CM-10/PSU | 2.1 lbs. (0.95 kg) |
| CM-30/PSU | 2.3 lbs. (1.05 kg) |

Connections
CM-10/PSU

One A25B (RJ21) or equivalent 25-pair
cable with female connectors

CM-30/PSU

Two A25B (RJ21) or equivalent 25-pair
cable with female connectors
Mounting
Apparatus cabinet, relay rack or backboard
| | |
| --- | --- |
| Certification | Approval Number |
| DOC CS03 | 350 3518 A |
| DOC C108-8 Class A | Approved |
| CSA C22.2 No. 225-M90 | LR 91817 |
| FCC Part 68 | FCNCAN-61252-PX-N |
| FCC Part 15 Class A | Approved |
| UL 1459-2 | D0292442DBC |
Related Products