CRI-376 Recording Interface
Controls Recording of Meridian Digital CENTREX calls

User Guide (pdf)
Product Brochure (pdf)
Now includes a FREE model 106 Mounting Bracket.
The CRI enables most recording devices to record calls made on your Meridian Business Set (MBS). The CRI is connected to your MBS and your recording device. You can select the lines you want to record using the dial pad of the MBS. You can even selectively record lines that appear on a multi-button add-on module. The CRI will operate perfectly with recorders that require contact closure, a ground input or voice operation to function. You can program the CRI to supply an audible alert tone for applications where you need to signify that a call is being recorded.
Application
The CRI is perfectly suited to those companies and institutions that have to record their calls. It's ideal for banks, insurance companies, government agencies, legal offices, universities, hospital groups, ACD 911, fire departments and police departments. You can select and program the CRI to record the line, or lines, of your choice through the dial pad of your MBS. Once this has been done, you simply forget that the CRI is there. It will take care of recording every call placed on those selected lines. If you need to indicate to the caller, or remind yourself, that the conversation is being recorded, you can program the CRI to supply an audible alert tone.
Application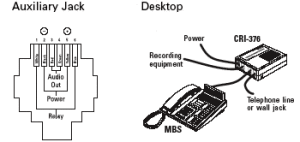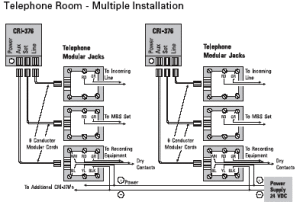 Benefits

Compatible with most industry standard recording devices
Programmable to allow users to select which line(s) are recorded on both the Meridian Business Set and any add-on modules
Programmable tone alert
Operates with "contact closure", "ground input" and "voice operation" recorders
Provides a dry contact output
[TOP]
Specifications
Min
Typical
Max
Unit
Electrical
Operating Supply Voltage
18
28
VDC
Operating Supply Current
50
200
mA
Note: A 24VDC 250 mA wall transformer is an acceptable power supply and is supplied with the CRI-376.
Input Impedance
(200 – 4000 Hz)
25
Kohm
dc
2
Mohm
Insertion Loss (200 – 4000 Hz)
0.5
dB
Longitudinal Voltage
30
VAC
Longitudinal Balance (200 – 4000 Hz)
66
dB
EMI/RFI Susceptibility
3
v/m
Output
Audio Output Impedance
600
ohm
Gain (300 – 3600 Hz)
-2
+2
dB
Relay Contact Rating 

(normally open contacts)

10
VA
Alert Tone Output
Frequency
1400
Hz
Duration
0.5
sec
Repeats
every 15 seconds
Environmental
Operating Temperature
32
122
°F
0
50
°C
Storage Temperature
-40
158
°F
-40
70
°C
Humidity (non-condensing)
95 %
RH
Dimensions (LxWxH)
5″ x 5″ x 1.5″ (12.7 x 12.7 x 3.8 cm)
Shipping Specifications
10.75″ x 6.375″ x 3.375″ (27.3 x 16.2 x 8.6 cm)
1.40 lbs. (0.635 kg)

Ordering Information
| | |
| --- | --- |
| CRI-376 | Centrex Recording Interface (equipped with 24VDC power supply) |
| | |
| | | |
| --- | --- | --- |
| Certification | | Approval Number |
| DOC CS03 | | 350 4284 A |
| DOC C108-8 Class A | | Approved |
| CSA C22-2 No. 225-M90 | | LR 65726 |
| FCC Part 68 | | FCNCAN-65100-PN-N |
| FCC Part 15 Class A | | Approved |
| UL 1459-2 | | D059210801C |
Related Products