Model 196 Loud Ringer


Discontinued-No Replacement



For industrial telephone ringers, they are the #1 choice
Installation Instruction
Product Brochure

The Stinger Ringer cuts through the noise of any environment with a powerful 110 dBA. Its intense signal is transmitted in all directions and reaches every corner of an industrial location or home.
The Stinger 90, Model 196, operates directly from Central Office power. No local power source is required. It has a modular plug that connects right into a standard telephone wall jack. A protected terminal block supports hard-wired installations. This unit is equipped with a three position volume switch (hi – med – low). Only one 196 can be connected to a POTS line or ATA port (Analog Terminal Adapter) (1).
SIP Ringer: An ATA analog port (not included) with sufficient REN rating is required to use the 196 with VoIP systems.
Housed in a rugged metal weatherized case. The terminal strip is protected by a cover making the ringer ideal for indoor or outdoor installations.
Application
If you work in a noisy or large area where the phones just cannot be heard, the Stinger Ringer is the ideal solution for you. Car lots, lumber yards, warehouses, manufacturing plants, fire halls and farms would benefit from the Stinger Ringer. Or, if you have a hearing impairment, install the Stinger 90 in your home and never miss a call again.
Combine with a model 173W to have one 196 ring on multiple lines without requiring local power.
(1) Use the 173W contact to add multiple model 198/PSU ringers to cover a very large area. The 198s require local power, but the common 196 will sound regardless. Ideal for a fire hall.
The Stinger Ringers have proven themselves to be economical, labor-saving and extremely effective in a variety of applications. They have been successfully installed in applications ranging from noisy industrial areas to home use for the hearing impaired.
Noise Level Measure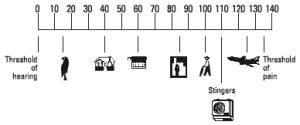 Installation

Benefits
Easy to install
Penetrating 110 dBA loudness
Line powered
Adjustable volume
Indoor or Outdoor use
Housed in a rugged, light-weight aluminum case
[TOP]
Ordering Information
| | |
| --- | --- |
| Model 196 | Stinger 90 Loud Industrial Ringer (Line powered) |
Specifications
Min
Typical
Max
Unit
Electrical
Operating Supply Voltage
40
135
VAC
Operating Supply Current
27
mA RMS
Ringer Equivalence
2.7
B
Load Number
24
Volume (measured at 1 meter)
– high
108
110
dBA
– medium
105
dBA
– low
100
dBA
Environmental
Operating Temperature
-40
158
°F
-40
70
°C
Humidity (non-condensing)
95 %
RH
Unit Dimensions (LxWxH)
5″ x 5″ x 2.75″ (12.7 x 12.7 x 7 cm)

Shipping Specifications
7″ x 6.5″ x 4.125″ (17.8 x 16.5 x 10.5 cm)
1.70 lbs. (0.77 kg)

| | | |
| --- | --- | --- |
| Certification | | Approval Number |
| Stinger 90 | | |
| DOC CS03 | | 350 2994 A |
| CSA C22-2 No. 225-M90 | | LR 65726 |
| FCC Part 68 | | FCN8E3-19754-RG-N |
| UL 1459-2 | | D05921081CR |
Related Products