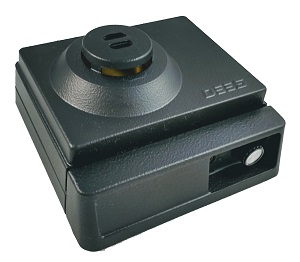 ---
Discontinued: no replacement
For industrial telephone ringers, they are the #1 choice
The 24 Volt Stinger Ringer (model 198) cuts through the noise of any environment with a powerful 110 dBA. Its intense signal is transmitted in all directions and reaches every corner of an industrial location or home.
Note: "Stinger 24" does not connect directly to a phone line.
Model 198/PSU includes the required 24 VDC power supply, and is triggered by a dry set of contacts.
Model 198 (without a power supply) is also available for use with our DSI-375 Centrex Ringer.

If you work in a noisy or large area, the Stinger Ringer is the ideal solution for you. Car lots, lumber yards, warehouses, manufacturing plants, fire halls and farms would benefit from the Stinger Ringer. The unit is housed in a rugged, light-weight aluminum weatherized case with a rotary volume control for continuous increase or decrease of volume. The terminal strip is protected by a metal cover making the ringer ideal for indoor or outdoor installations.
The Stinger Ringers have proven themselves to be economical, labor saving and extremely effective in a variety of applications. They have been successfully installed in applications ranging from noisy industrial areas to home use for the hearing impaired.
Applications
Model 198 is ideal for use with our DSI-375 on Meridian Digital Centrex phone systems. In this case the DSI-375 powers the 198.
Use model 198/PSU with our 173W to indicate ringing on one or more POTS or ATA lines, or as a common audible or night bell on Key System installations.
Connect a doorbell button or door-open switch across the 198/PSU contact pair to alert the shop when a customer arrives.
Install multiple 198s to cover a very large area. Contact Dees regarding limits and connections.
Noise Level Scale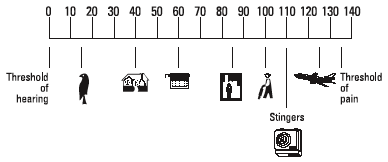 Installation
Benefits
Easy to install
Output 110 dBA at one meter
24 VDC powered
Adjustable volume control
Ideal for indoor and outdoor use
Housed in a rugged, light weight aluminum case
[TOP]
Ordering Information
198/PSU
Stinger 24 Loud Industrial Ringer (24 VDC)
with Power Supply (Model 193)
198
Stinger 24 Loud Industrial Ringer (24 VDC)
Specifications
| | | | | |
| --- | --- | --- | --- | --- |
| | Min | Typ. | Max | Unit |
| Electrical | | | | |
| Operating Supply Voltage | | 24 | 30 | VDC |
| Operating Supply Current | | | 110 | mA |
| Max Volume (measured at 1 meter) | | 110 | | dB A |
| Environmental | | | | |
| Operating Temperature | 14 | | 158 | °F |
| | -10 | | 70 | °C |
| Humidity (non-condensing) | | | 95 % | RH |
Unit Dimensions: LxWxH
5″ x 5″ x 2.75″ (12.7 x 12.7 x 7 cm)
198/PSU Shipping Specifications
10.75″ x 6.5″ x 4.5″ (27 x 16.5 x 11 cm)
2.0 lbs (0.90 kg)
198 Shipping Specifications
6.75″ x 6.5″ x 4.5″ (17 x 16.5 x 11 cm)
1.6 lbs (0.73 kg)

Related Products